| CM4650 Home Page | Michigan Tech Chemical Engineering | Michigan Tech Home Page | CM4655 Home Page |

---



Welcome to the Homepage for
CM4650
Polymer Rheology

Department of Chemical Engineering
Michigan Technological University
Dr. Faith A. Morrison Office Hours




Homeworks and Exams last updated 27 April 2018>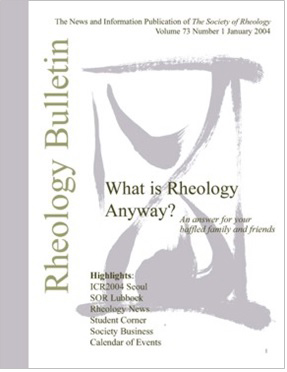 An article with this title
, written by Dr. Morrison, that appeared in the
Rheology Bulletin
in January 2014 and in "The Industrial Physicist," Volume 10, Number 2, April/May 2004, pp 29-31.
TIP pdf
Errata for Understanding Rheology
Errata for Solution Manual for Understanding Rheology

Website for the CM4655 Polymer Rheology Laboratory Course


---

Dr. Faith A. Morrison, Professor of Chemical Engineering
Associate Dean of the Graduate School
Michigan Technological University
1400 Townsend Drive
Houghton, MI 49931-1295 Phone: 906-487-2050
FAX: 906-487-3132



---

misc
---

This page maintained by fmorriso@mtu.edu.

---

| CM4650 Home Page | Michigan Tech Chemical Engineering | Michigan Tech Home Page | CM4655 Home Page |