<![if !vml]>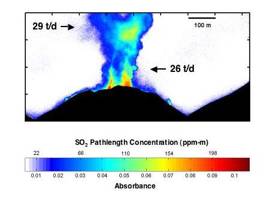 <![endif]>
Ultraviolet image of Santiaguito volcano and SO2 plume, taken with a new camera developed at Michigan Tech (January, 2005).
---
RESEARCH ACTIVITIES
Remote Sensing for Hazard Mitigation and Resource Protection in Pacific Latin America (Project Web Page). This project is supported by NSF's Office of International Science and Engineering, and will extend from September 2005 to August 2010. This project focuses on developing remote sensing tools for collaborative hazard mitigation and resource development in Guatemala, El Salvador, Nicaragua and Ecuador. This project has support for post-docs, Ph.D. and M.S. students each year. Undergraduate work in Central America is also supported for MTU's "Aqua Terra Tech" Enterprise and the Remote Sensing Minor.
●Development and Application of an SO2 Imaging Ultraviolet Camera for Volcanic Gas Monitoring (2005-present). With support from NSF's Petrology and Geochemistry Program, we have developed a UV digital camera system for imaging volcanic SO2 plumes with high sensitivity, the ability to derived plume speeds directly from sequential images, and quantify SO2 fluxes under a variety of environmental conditions. We continue this work towards developing the camera as a practical, reliable monitoring tool.
<![if !supportEmptyParas]> <![endif]>
●A New Long-Term Record of Volcanic SO2 Generated From HIRS/2 Satellite Data. This project is supported by NASA's Solid Earth and Natural Hazards Program, and is planned to extend from September 2003 to August 2006. We are analyzing infrared satellite data, and developing techniques to study volcanic clouds and a database of volcanic SO2 emissions from this method, complementary to the ultraviolet TOMS sensor. This project has support for 1 Ph.D. student. (full proposal)
<![if !supportEmptyParas]> <![endif]>
●Validation of TOMS Volcanic Aerosol and SO2 Products Using MODIS and AVHRR(2001-2005). This project is supported by NASA's Earth Enterprise Program, and extended from July 2001 to July 2005. We are studying volcanic ash, gas and aerosol clouds, comparing retrievals from infrared sensors to the ultraviolet TOMS data. This project has supported 1 Ph.D. and 2 M.S. students.
●IDL Programming Tutorial (2002): this is a fairly rigorous introduction to applied science programming. This work was supported by a 2002 Michigan Tech Graduate School grant to "enhance research and mentoring of graduate students".
●Volcanic Hazards Products for the Pacific Disaster Center (PDC) (1999-2002): This research focuses on the formation and tracking of volcanic fog (vog) in the state of Hawai'i, with our goal to provide the PDC with operational versions of SO2 and sulfate tracking software.
●The Center of Environmental Remote Sensing Education for Engineers and Scientists at Michigan Tech(1998): through the NASA Center of Excellence program and the Dow Corporation we have built some of the world's finest computing and remote sensing resources, as we continue to develop Remote Sensing Institute at Michigan Tech, and the Remote Sensing Minor program.
●Natural Hazards Mitigation using the Total Ozone Mapping Spectrometer (TOMS) (1998-2001): An update of this project where we are using TOMS SO2 data to study long term volcanic emissions, and the fates of these emissions in the atmosphere.
●Tropospheric Aerosols (1993-1997): In this project we used TOMS SO2 data to study the contribution of volcanic activity to the atmospheric sulfur dioxide budget. This NASA-funded project has supported several student projects, at both M.S. and Ph.D. levels.
●Some of my work with NASA/Goddard can be seen on the TOMS/SO2 Volcano Group Web page
---
<![if !vml]>

<![endif]><![if !vml]>

<![endif]>
<![if !vml]>

<![endif]><![if !vml]>

<![endif]>
These four sequential images show the emissions starting from a ring-shaped pattern of vents from the summit dome(January, 2003). The diameter of the ring is roughly 100m. Click on the images for a bigger view.
---
FIELD WORK INFORMATION
●Central America Contact Information: Phone and fax numbers, email and street addresses for hotels and colleagues in Guatemala, El Salvador and Nicaragua.
<![if !supportEmptyParas]> <![endif]>
Directions to Sam Bonis' house.
Guatemala volcano field equipment list
---
<![if !vml]>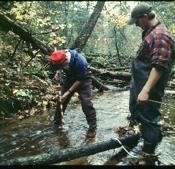 <![endif]>
Me (left) and Jon French measuring stream flow near Pictured Rocks, MI.