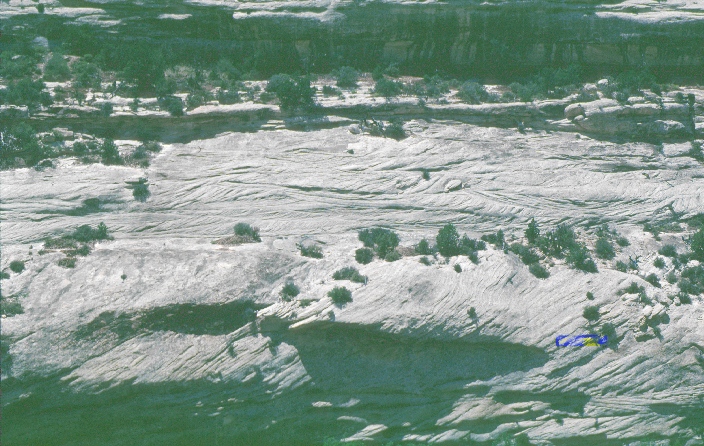 Natural Bridges National Monument and vicinity
Overview of this Site
At Natural Bridges we will investigate rocks that are time equivalent to part of the Cutler Formation in the Gateway fan. Here the Cutler can be separated into formations and is itself raised to Group status. In the park we will look at the Cedar Mesa Sandstone. Here, as in Big Spring Canyon in the Needles District of Canyonlands National Park, the Cedar Mesa exhibits cyclicity. Definite eolian and mudflat facies can be identified. But are the limey beds and reworked sand beds the result of deposition in lakes or the sea? Geologists don't agree. What information can help to resolve the question?
To get to Natural Bridges travel south on Highway 191 from Moab. You will pass through the towns of Monticello and Blanding. At the far southern end of Blanding turn to the west on Highway 95. The Abajo Mountains lie to the northwest. As you travel along Highway 95 you will travel past Butler Wash, Comb Ridge, and Mule Canyon (all known for outstanding archeological and/or geological features). The road to Natural Bridges (Highway 275) turns off of Highway 95 just past Highway 95's intersection with Highway 261. The features described here can be seen along the developed trail in the Park that leads to Kachina Bridge.
White Canyon offers excellent exposure of Permian and Triassic rocks. In this area the Permian Cedar Mesa Sandstone (the eolian facies are particularly well exposed), Organ Rock Formation, and, at the far northwest end of the canyon, the White Rim Sandstone. In this area the Permian rocks are unconformably overlain by the Triassic Moenkopi Formation. In eastern White Canyon the unconformity is very hard to identify (look for coarse well-rounded quartz grains in the Hoskinnini Member of the Moenkopi where it overlies the Organ Rock). To the west, the White Rim is overlain by a chert-pebble conglomerate that occurs at the base of the Black Dragon Member of the Moenkopi. The conglomerate was deposited by streams that flowed from west to east (what implication does that have for paleogeography?) and deposited sediment in the Hoskinni basin. In White Canyon be sure to watch for large-scale wavy bedding, fluid escape structures, and slumps in the Hoskinni. These are probably the largest examples of th ese features known.
Highway 95 basically parallels White Canyon from Natural Bridges National Monument to Lake Powell.

Return to Geology of Utah's National Parks Home Page
Return to Introduction to Photos Page