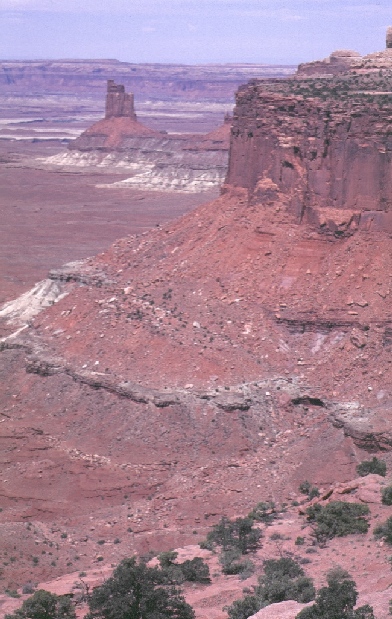 Canyonlands National Park
Overview of this Site
The Island in the Sky District of Canyonlands National Park is probably the best place to get as complete as possible view of the Colorado Plateau geologic section. See the caption for Photo 1 on the next page.
To get to Island in the Sky travel north from Moab, Utah, and then travel west on Highway 313. Highway 313 actually goes to Dead Horse Point State Park, but to get to the Island you head west rather than east at the junction of the roads to Dead Horse and the Island.
Along Highway 313 many of the rock layers exposed within the canyons can be accessed quite easily. Here immense cliffs cannot stop one from looking at rocks. This is a good place to refresh your memory about the rocks you have already looked at and then look at some new ones. Along the road, traveling to the southwest from the intersection with Highway 191 the Triassic Chinle is first encountered, then the Jurassic Wingate, Kayenta, Navajo and Entrada (in ascending order). The Entrada is first encountered on this day, and its three members can be easily recognized along Highway 313 (Dewey Bridge, Slick Rock, and Moab Tongue).


Return to Geology of Utah's National Parks Home Page
Return to Introduction to Photos Page