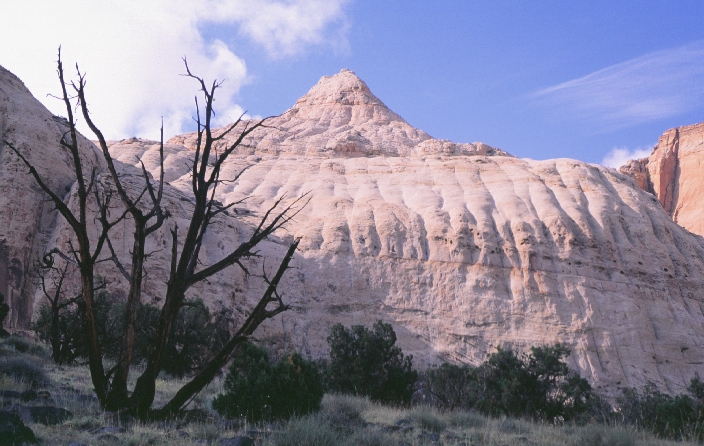 Capitol Reef National Park
Overview of this Site
Capitol Reef National Park is located along the axis of the Captitol Reef. This reef isn't a coral reef but rather a barrier to transportation. In this area the course participants will look at Permian and Triassic rocks exposed in canyons within the park and will use information they collect to determine how the Permian and Triassic rocks in this area are different from those in Canyonlands.
To get to Capitol Reef from Arches National Park travel north from Arches on Highway 191. Head west on I-70, and then south on Highway 95 to Hanksville. From Hanksville head west on Highway 24 into the Park.
Between the eastern side of Capitol Reef National Park and the town of Hanksville is an excellent place to examine Cretaceous strata. Compared to the Permian and Triassic rocks examined on Day 7, the Cretaceous rocks have abundant evidence of a much more humid climate.

Return to Geology of Utah's National Parks Home Page
Return to Introduction to Photos Page