Cognitive Modeling and Experimentation Laboratory


MTU At-Home Crossword Study


Currently, our study is only available for MS Windows users. To participate, you need to download a small program, let it unzip itself on your computer, and run the study by double-clicking on a launch icon. It contains a number of tasks including a crossword puzzle to solve with our software. Once you are finished, data about your performance will be automatically sent back to our laboratory servers.
Follow progress, ask questions, and give feedback at the study blog.
Detailed Instructions


Step I. Download the software:
xword-athome.exe software here (self-extracting archive; around 11 mb).
Or, try the .zip file xword-athome.zip; (around 14 mb)
Your file will probably save in your Downloads directory. Depending on your settings, it will either show up as xwordathome.exe or just xwordathome.
Step II. Move this file to some place you can find it later, like My Documents\ or your desktop.
Step III. Then, double-click on the file. It should automatically uncompress and create a folder called xwordathome in that same directory. Depending on your security settings, windows may warn you that the file is unsigned or from an unknown source. You can safely ignore those warnings. If you downloaded the .zip version, make sure to right-click and choose to uncompress--don't just open it and browse, as that will likely cause problems.
Step IV. Open the xword-athome folder. Inside, there is a file called runstudy.bat, which might only show up as runstudy. If you double-click on this, the main study menu will launch, which will look something like the screenshot below: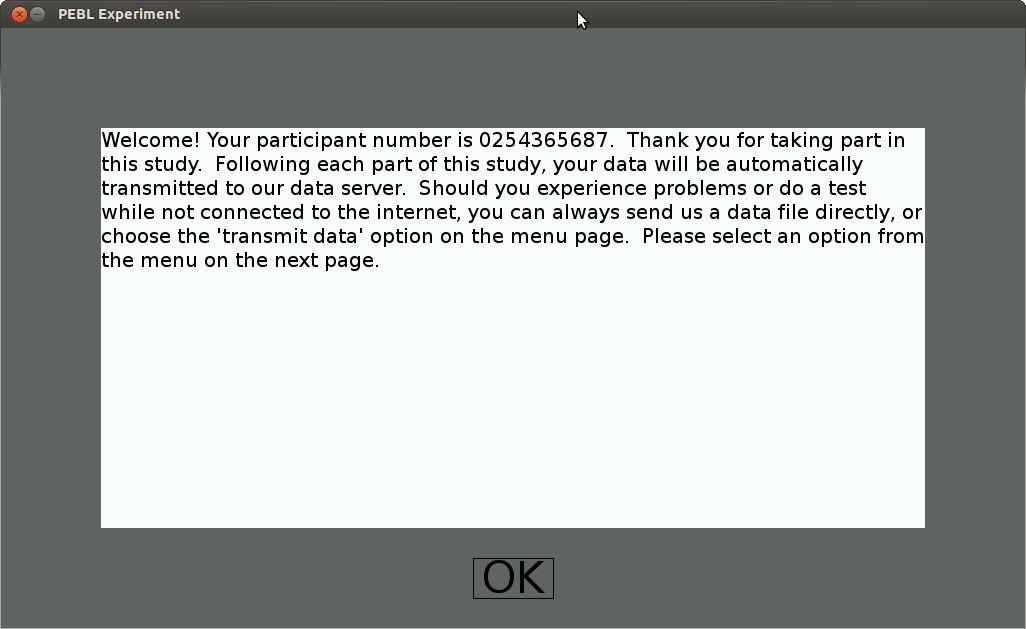 Your subject code is saved and will be used to make sure we can tie your different data profiles together. After you finish a section of the study, feel free to close the program and come back later to finish the next section. If you want to run multiple people on the same computer, unzip/save the xword-athome directory in two different locations. It is OK to rename the xword-athome directory.
Step V. Next, you will see a menu like below: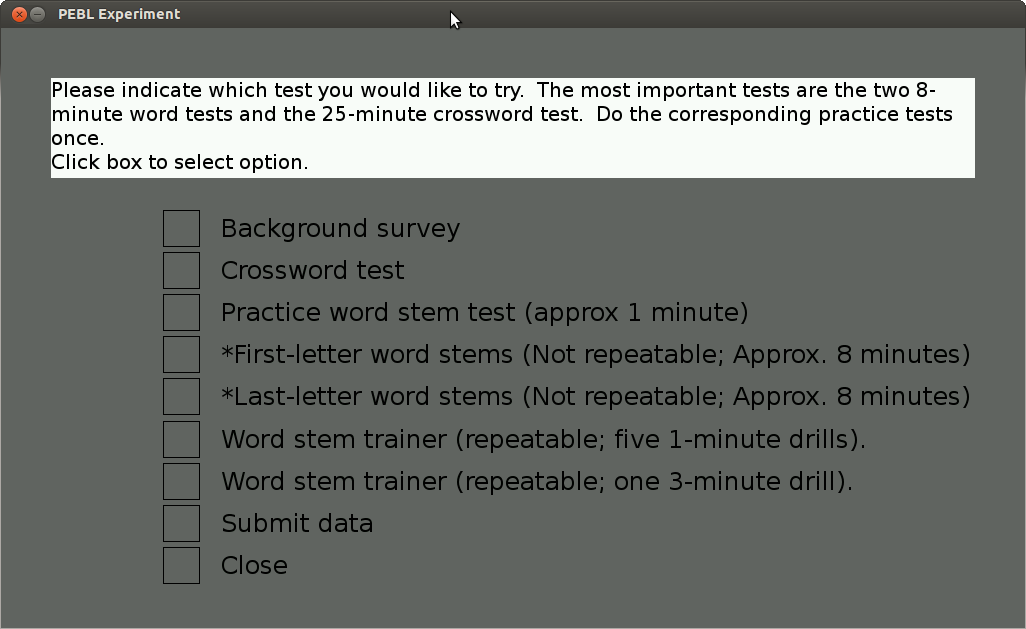 Work through each option of the menu, starting at the top. Once you have completed a part of the study that cannot be performed again, it will disappear from the menu. After an initial survey, you will launch the crossword software, which is separate from the menu system.
Step VI. The crossword puzzle software will walk you through a practice and a test round. Following the test round, you can use the software to run your own .puz files (and after which your data will be sent back to our servers).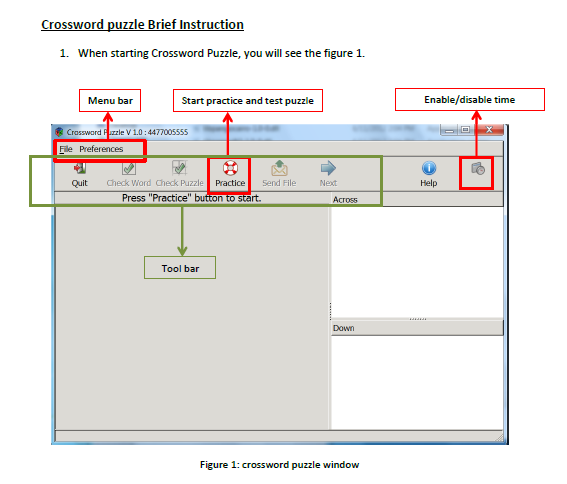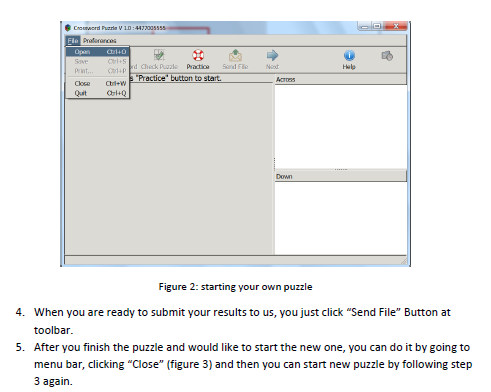 Step VI. Next, you will return to the menu, which should no longer have the survey option. Now that you have completed the crossword study, you can skip over it (if you would like to use the software to solve .puz files you download from the internet, that would be excellent!).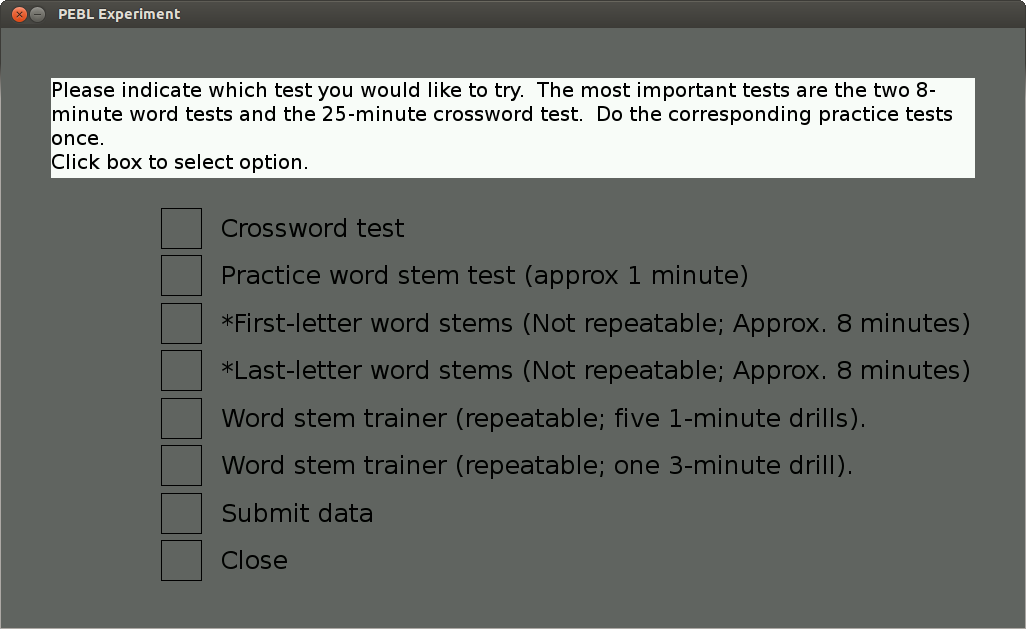 This part of the study involves a word stem completion task, where you try to enter as many words as you can that fit a particular pattern. Do the practice session to get familiar with the software, and then complete the two 8-minute tests.
Step VII. You are FINISHED! Thank you! If you have not submitted your data (because of a internet or server error), a 'Submit data' menu option will appear. If you would like to confirm that you sent your data, you can send an email to xword-l@mtu.edu with your subject code.
Step VIII. Using the trainer. There are a two options remaining that you may want to use to improve your crossword play--the 5-minute and 3-minute trainers. These create random stem completions and give you a limited time period to try to get as many as you can. After each training session, your data will again be sent to us, and we will use that data as part of our research.
If you are not on our mailing list and would like to be notified when we have an update, email us at xword-l@mtu.edu. Let us know a few things about your crossword experience, and especially whether you are a constructor as well as a solver.