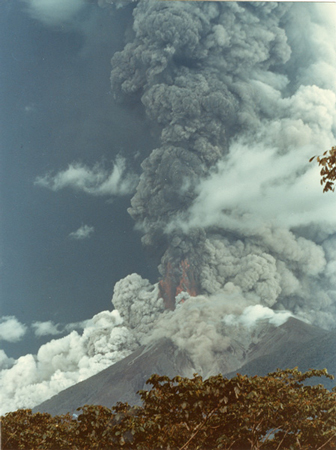 1974 eruption of Fuego Volcano, Guatemala
Volcanic Sedimentology:
William I. Rose, Steve Self, P. J. Murrow, Gerald G. J. Ernst, Costanza Bonadonna, Adam J. Durant (2007), Pyroclastic Fall Deposit from the October 14, 1974, Eruption of Fuego, Guatemala.
Submitted to Bulletin of Volcanology, in revision.
Durant, A. J., W. I. Rose, C. J. Horwell, A. M. Sarna-Wojcicki, E. Wan, S. Dartevelle and A. C. Volentik (2006), Reanalysis of the Pyroclastic Fall Deposit from the 18 May 1980 Eruption of Mount Saint Helens, USA, Eos Trans. AGU, 87(52), Fall Meet. Suppl., Abstract V33B-0656.
Atmospheric Clouds:
David M. Schultz, Katharine M. Kanak, Jerry M. Straka, Robert J. Trapp, Brent A. Gordon, Dusan S. Zrnić, George H. Bryan, Adam J. Durant, Timothy J. Garrett, Petra M. Klein, and Douglas K. Lilly (2006), The Mysteries of Mammatus Clouds: Observations and Formation Mechanisms.
Journal of the Atmospheric Sciences, Volume 63, Issue 10
Ice Nucleation:
Raymond A. Shaw, Adam J. Durant, and Youshi Mi (2005), Heterogeneous Surface Crystallization Observed in Undercooled Water.
Journal of Physical Chemistry B, 109, 9865-9868.
Adam J. Durant and Raymond A. Shaw (2005), Evaporation Freezing by Contact Nucleation Inside-Out.
Geophysical Research Letters, 32.