The Graphite Ball
Sponsored by the Seaman Mineral Museum Society
November 1, 1997
---
Never before has such a "humble" mineral been so honored so greatly by so many!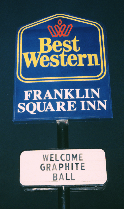 The "Graphite Ball" was held on November 1, 1997 at the Franklin Square Inn ballroom in Houghton Michigan. This unique event was sponsored by the Seaman Mineral Museum Society as its first major fundraising event for the A. E. Seaman Mineral Museum at Michigan Technological University. As guests entered the ballroom at 6:15 PM they were greeted by the delightful sounds of eighteenth century chamber music, played by a quartet of students of the Copper Country Suzuki association. The ballroom and tables were decorated by Nancy Leonard (Einerlie, Chassell, MI) who, with candles, mirrors, and various-sized, imitation graphite spheres (modeled after the theme specimen from Gooderham, Ontario), took the "ugliest mineral known to man [graphite]" and made graphite shimmer and shine in the spotlight. During the cocktail hour, a silent auction featuring fine minerals (yes- graphite spheres included), photographs and prints, books, and elegant jewelry took place. At 7:00 guest seated themselves at the elegantly decorated tables, where a program, souvenir pencil and a small specimen of spherical graphite from Ontario awaited each guest.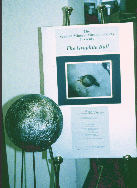 After a delicious gourmet meal of salmon, chicken or beef, prepared by the Northern Lights Restraunt, "HEXA... for String Quartet" made its debut. Elizabeth Meyer, PhD candidate at Northwestern University, composed the piece, inspired by graphite's symmetry and crystal structure, especially for the Ball. The ingenious and fresh music was played by the Copper Country Suzuki Association String Quartet- Dr. Eric Lawson (violin), Trevor Peterson (violin), Anne Kearney-Looman (viola), and Corrin Meyer (cello).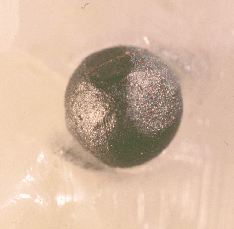 A 1.2 mm graphite sphere, etched
from calcite. Note the naturally occurring
"faceted" sections of the surface.
John A. Jaszczak collection #1841 and photo.
"All that Glimmers is...Graphite!", a humorous slide presentation by Dr. John A. Jaszczak, was definitely the hit of the Ball. Said Dr. David Rudd, Assistant Professor of Marketing, "Dr. Jaszczak's celebration of his interest and passion of graphite was done in the most amusing and enlightening way!" Dr. Jaszczak's interest in unusual morphologies of graphite was the inspiration that led to the Seaman Museum's director, Stanley J. Dyl II, to think of the evenings unique theme. Dyl introduced Dr. Jaszczak with the words: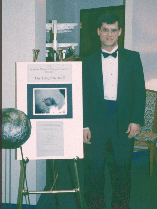 The rest of the evening featured music and ballroom dancing to the beat of the popular "Keweenaw Swing Band".
The Graphite Ball is, hopefully, the first of many such fun and unique events to follow, sponsored by the Seaman Mineral Museum Society, whose goal is to promote and support the A. E. Seaman Mineral Museum and its mission.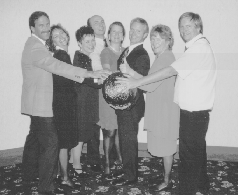 ---
Click here for more information about the Seaman Mineral Museum Society and its events.
---
Questions or comments? Email jaszczak@mtu.edu

© Copyright John A. Jaszczak

Back to Jaszczak's home page