Fisheye Lenses: Nikon FC-E8 and FC-E9

This page is about the Nikon Fisheye lenses on a A95. Nikon made two fisheye lenses: FC-E8 (28mm thread size) and FC-E9 (46mm thread size). Although both are 0.2X (i.e., making the A95 combo to have a 7mm focal length - 35mm equivalent) and capable of covering slightly larger than 180 degree angle of view, the FC-E9 is larger and heavier in order to match the larger lenses of 5700, 8700 and 8800. The following two images show a FC-E8 and a FC-E9 on a A95.
| | |
| --- | --- |
| | |
| Nikon FC-E8 Fisheye | Nikon FC-E9 Fisheye |
Mounting the FC-E8 on a A95 is simple as long as we have a 37-28mm thread converter. Mounting the FC-E9 has two options, however. One can use the Canon (or LensMate) 52mm adapter tube and a 52-46mm step-down ring or thread converter. Or, one can use Nikon's UR-E7 ring, which is a 28-46mm step-up ring, and the LensMate 37mm tube with a 37-28mm thread converter. Since the fisheye converter FC-E8 is heavy, the Photosolve 37-28mm thread converter is not able to hold it sturdy in the thread. One still can twist the lens a little when it is on the Photosolve 37-28mm thread converter. The situation of the Canon adapter tube plus a 52-46mm step-down ring is not much better because the Canon tube does not sit firmly on its bayonet mount. A better solution would be the use of the DigiLens 37-28mm thread converter and the LensMate adapter tube. Or, if you like, you may also consider the use of the 37mm LensMate tube, followed by a 37-46mm step-up ring and the FC-E9 fisheye; however, this setup can be big and heavy and may not be your best choice.
The image below was taken with the FC-E8 with the A95 lens zoomed all the way out. In this case, the combo is a 7mm circular fisheye lens with a coverage of about 180 degree.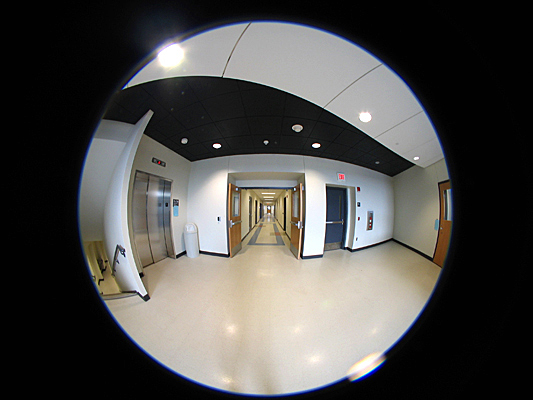 Nikon FC-E8 Circular Image
The image below was taken at the same location with the camera lens zoomed in so that the image covers the whole LCD. This is the full frame fisheye mode. The A95 focal length used was about 16.2mm, which is 14.5mm in 135mm equivalent. Many long zoom digicams cannot focus in this full frame mode; but, this short zoom Canon A95 locks on the subjects flawlessly in every shot.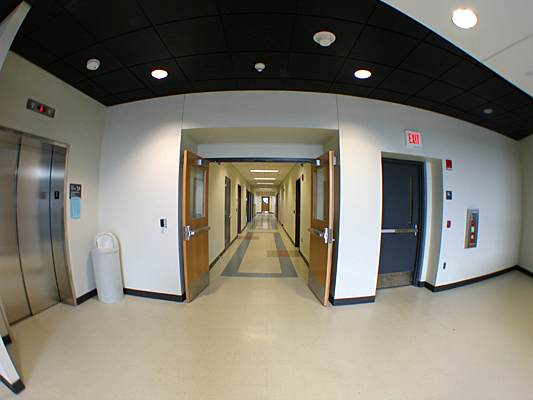 Nikon FC-E8 Full-Frame Image
Here are two more examples. Look carefully at the circular fisheye image, and you will see the position of the image circle is slightly different from the following one. This one touches the bottom edge of the frame. This could be the problem of a not-so-sturdy 37-28mm thread converter. A different way of holding the lens can tilt the lens up or down, shifting the image circle. This is the main reason that a better thread converter such as the DigiLens version that can stay in the thread firmly is required.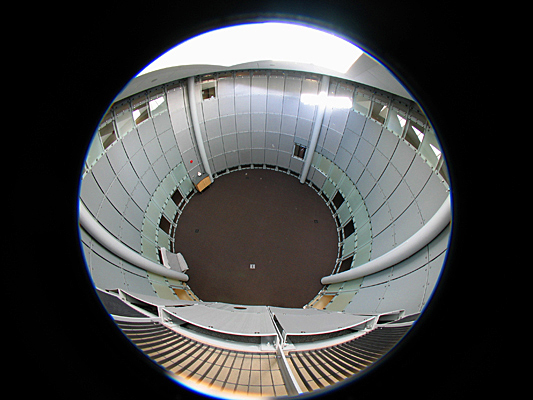 Nikon FC-E8 Circular Image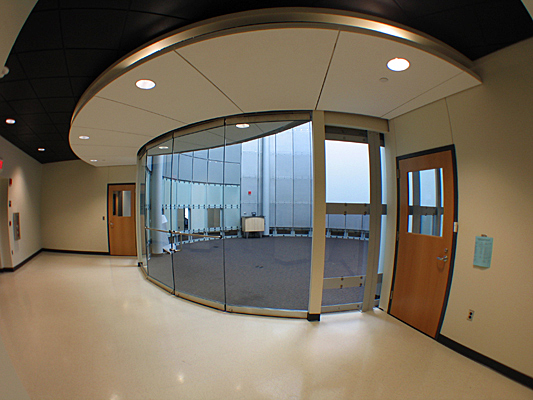 Nikon FC-E8 Full-Frame Image
Warning
There are many cheap semi-fisheye lenses around. They are not true fisheye lenses. In fact, they are uncorrected (for barrel distortion) wide or ultra wide angle lenses. For example, if you search the Internet, you will see many 0.25X, 0.3X or even 0.45X lenses claimed to be semi-fisheye lenses. However, they rarely reach the 180 degree coverage, and, as a result, the image circular may be too large for your A95. Even though some of them can produce a circular image on your A95, they may not be able to provide a 180 degree coverage.
Technical Data
The following technical information are taken from Nikon's manual.
| | | |
| --- | --- | --- |
| Item | FC-E8 | FC-E9 |
| Number of lenses | 5 elements in 4 groups | 6 elements in 4 groups |
| Magnification | x0.21 | x0.2 |
| Combined focal length | 8mm (35mm equivalent) | 7mm (35mm equivalent) |
| Front Thread SIze | None | None |
| Dimension | 74mm×50mm | 101mm×73mm |
| Weight | 205g (7.2oz) | 580g (17.5oz) |
More information about FC-E8 and FC-E9 can be found here and here, respectively.