Adapter Tubes

If you wish to use converter lenses and/or filters, an adapter tube is required. To the best of my knowledge, there are a number of commonly used and frequently mentioned adapters; however, this section will only discuss the Pemaraal, Yoshida and Chen versions. Click on the adapter tube name for more details.
Before You Mount an Adapter Tube .....
Before you can use any adapter tube, the lens ring and lens hood must be removed from the lens barrel as shown below. This exposes a male thread for the supplied lens hood. An adapter tube has two female threads. The rear one screws on to the lens thread, and the front one is for converter lenses, filters, and other lens accessories.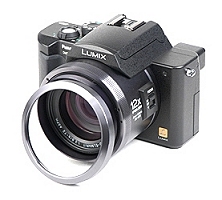 The Use of Filters
Since the filter thread sizes of these adapter tubes are commonly used ones, filters can be added easily. The first two images below show a Nikon #6T +2.9 close-up lens on a Pemaraal PD62 and a Chen adapter. Since the Nikon #6T has a 62mm thread, no step-ring is needed. The right image below shows a 55mm Hoya +10 close-up lens on a Yoshida 55mm adapter tube. Note that if the filter being used is not of the same thread size, step rings will be needed. It is important to keep in mind that in general the filter size should be larger than or equal to the adapter thread size to avoid vignetting, although it is not always the case. Sometimes, a smaller size filter can be used on a larger adapter because (1) the opening of the adapter is larger than the lens opening, and (2) zooming the camera lens in can indeed eliminate vignetting. The second point is particularly true for close-up lenses because the camera lens is usually zoomed in to the longest focal length to yield maximum magnification. But, it is important to do some tests before buying.
| | | |
| --- | --- | --- |
| | | |
| PD62 Adapter with a Nikon #6T | Chen Adapter with a Nikon #6T | Yoshida 55mm Adapter with a Hoya +10 |
A Few Notes
Which adapter should I use? There is no definitive answer. In fact, it all depends on what lens accessories you have. Just choose the adapter tube that fits the thread size of your filters and lenses.
All adapter tubes can be used with various converter lenses as long as the needed step rings can be found. For example, to mount a Nikon FC-E9 Fisheye converter on a Yoshida 55mm tube, a 55-46mm step down ring or a 55-49mm and a 49-46mm step-down rings will be needed.
Always use a thin step ring, if you can find one. Not all step rings are created equal. Some are thicker than the others. A thick step ring between an adapter tube and the converter being used pushes the converter lens away from the front glass element of the camera lens, increasing the chance of getting vignetting at the corners. This is particularly important when using a wide angle converter.
Avoid using more than one step rings if possible. This is obvious because two rings form a thicker ring!