<![if !vml]>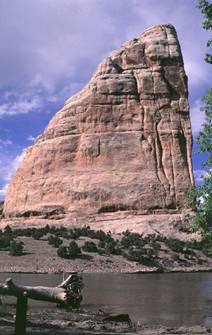 <![endif]>
Dinosaur National Monument
Overview of this Site
In Dinosaur National Monument students in this course will spend one and one-half days creating a geologic map of strata on the north side of Split Mountain.
Dinosaur National Monument encompasses rocks on both flanks of Split Mountain. During the course we will work only along the southern flank of Split Mountain in rocks ranging from Pennsylvanian to Cretaceous in age. Older rocks are present along the rivers in the central part of the monument. Dinosaur is known for the fossils found in the Jurassic Morrison Formation. We will spend the afternoon of this day touring the dinosaur quarry.
To get to Dinosaur National Monument from Capitol Reef travel east from Capitol Reef on Highway 24 to Hanksville. At Hanksville head north on Highway 95. Go east on I-70 and then north on Highway 191 to Vernal. From Vernal head west on Highway 40 to Jensen and then turn north on Highway 149 into the Monument.

Return to Geology of Utah's National Parks Home Page
Return to Introduction to Photos Page