<![if !vml]>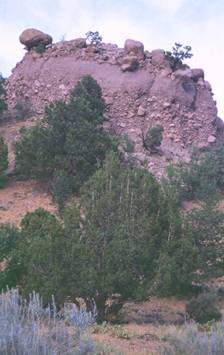 <![endif]>
Gateway, Colorado
Overview of this Site
Gateway, Colorado is located at the western end of Unaweep Canyon in southwestern Colorado. The sedimentary rocks exposed there range in age from Pennsylvanian to Recent. The Pennsylvanian and Permian sedimentary rocks were derived from the Uncompahgre Plateau when it was part of the Ancestral Rocky Mountains. These sedimentary rocks are very coarse grained adjacent to the ancient uplift and they become increasingly fine grained away from their ancient source area. These sedimentary rocks are equivalent in age to much of the rock that is exposed in the National Parks and Monuments of eastern Utah.
A geographic feature known as The Palisade dominates the northern skyline in the town of Gateway. The rock layers exposed in the cliff faces of The Palisade are a good source of information about the history of this part of the world.
To get to Gateway from Grand Junction, Colorado, take Horizon Drive west to 12th Street, turn left on 12th Street, pass Mesa State College, turn right at North Street (at the south end of Mesa State College). From there turn left on 1st Street then turn left onto Highway 50 east (also Interstate 70 Business east). Nine miles later, a right turn lets you continue on Highway 50 east. At the town of Whitewater turn right onto Highway 141 west (toward the town of Gateway). Travel on Highway 141 until you reach Gateway. If you cross the Dolores River you have gone too far. The La Sal mountains are located to the west of Gateway and are snowcapped throughout most of the year.  


Return to Geology of Utah's National Parks Home Page
Return to Introduction to Photos Page