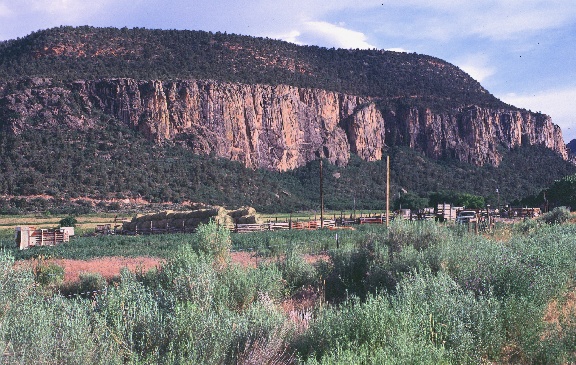 Unaweep Canyon
Overview of this Site
Unaweep Canyon, located in southwestern Colorado, cuts through the Uncompahgre Plateau. The Uncompahgre Plateau was once part of the Ancestral Rocky Mountains, a series of mountain ranges that were first uplifted during the Pennsylvanian Period in about the same geographic location as the modern-day Rocky Mountains. The Uncompahgre Uplift is composed of Precambrian granite and granite-gneiss that is cut by immense dikes. It has an extremely flat top that is directly overlain by Triassic age sedimentary rocks (Chinle Formation). Above the Chinle, the resistant rocks along the skyline are the Jurassic Wingate Formation.
The Uncompahgre is significant to the geology of southeastern Utah because it acted as the source of much of the clastic sedimentary rocks that now form the canyons and plateaus of southeastern Utah's National Parks and Monuments. There is some evidence that uplift of the Uncompahgre during the Pennsylvanian may have resulted in flexure of the Earth's lithosphere and depression of the Paradox basin (located in southeastern Utah). Today the Paradox basin is an important area for oil and gas exploration and development.
To get to Unaweep Canyon from Grand Junction, Colorado, take Horizon Drive west to 12th Street, turn left on 12th Street, pass Mesa State College, turn right at North Street (at the south end of Mesa State College). From there turn left on 1st Street then turn left onto Highway 50 east (also Interstate 70 Business east). Nine miles later, a right turn lets you continue on Highway 50 east. At the town of Whitewater turn right onto Highway 141 west (toward the town of Gateway). Travel on Highway 141 about 14 miles until you reach Divide Road. Divide Road takes you up the south side of Unaweep Canyon.
As you drive from Grand Junction into Unaweep Canyon you travel downsection, that is, into progressively older rocks. As you enter Unaweep Canyon the 1st prominent sandstone you pass is the Cretaceous Dakota Sandstone, which is whitish grey in color. The second prominent sandstone is the Triassic Wingate Sandstone (red color).


Return to Geology of Utah's National Parks Home Page
Return to Introduction to Photos Page