Research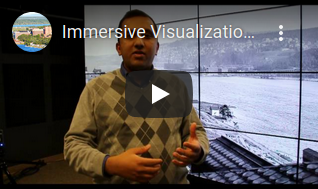 If you are an MTU student interested the research described on this page, please visit my information page for students.
Laboratories
Immersive Visualization Studio: A 50 megapixel screen consisting of 24 46" high-definition monitors. The space also provides a profession full-body tracking system from Vicon. A head-mounted display will soon be added to this lab. This laboratory is supported by the National Science Foundation (grant# CNS-1229297).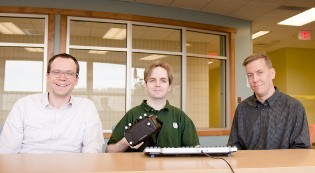 Virtual Environment Lab: This lab consists of a WorldViz PPT tracking system, two data gloves, an NVIS nVisor ST head-mounted display (capable of see-through and non-see-through modes), an Xbox Kinect, and other equipment to support virtual reality research.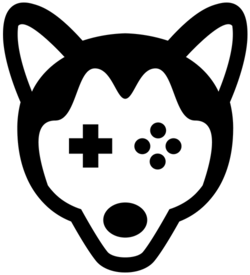 Husky Game Development Lab: - A Windows computer lab available for use by any student enrolled in Husky Game Development. The lab provides access to Photoshop, a Wacom tablet, audio recorders, and other resources which support video game development for Xbox, Android phones, desktop computers, and the display in the Immersive Visualization Studio. For more detailed information about Husky Game Development, see our recent ASEE 2014 publication.
Publications
For a full list of publications, see my CV or Google Scholar

Soheil Sepahyar, Scott Kuhl. VR Distance Judgments are Affected by the Amount of Pre-Experiment Blind Walking. ACM Symposium on Applied Perception. September 2022. Accepted.

Dylan Gaines, Scott Kuhl. Methods for Evaluating Depth Perception in a Large-Screen Immersive Display. ACM Symposium on Spatial User Interaction. October 2020. [link].

Fan Ding, Soheil Sepahyar, Scott Kuhl. Effects of Brightness on Distance Judgments in Head Mounted Displays. ACM Symposium on Applied Perception. September 2020. [link].

Bochao Li, James Walker, Scott A. Kuhl. The Effects of Peripheral Vision and Light Stimulation on Distance Judgments Through HMDs. ACM Transactions on Applied Perception, 15(2). pp. 12:1--12:14. April 2018. [link].

Joshua B. Hooker, Vincent Druschke, Scott A. Kuhl, Aleksandr Sergeyev, Siddharth Yogesh Parmar, Mark Bradley Kinney, Nasser Alaraje, and Mark Highum. Enhancing Industrial Robotics Education with Open-source Software. ASEE Annual Conference & Exposition. 2017.

James Walker, Bochao Li, Keith Vertanen, and Scott Kuhl. Efficient typing on a visually occluded physical keyboard. In Proc. 2017 ACM CHI Conference on Human Factors in Computing Systems, CHI '17, pages 5457–5461, New York, NY, USA, 2017. ACM. [link]

Aleksandr Sergeyev, A. Nasser Alaraje, Scott A. Kuhl, Siddharth Parmar, Vincent Druschke, Joshua Hooker. Promoting Industrial Robotics Education by Curriculum, Robotic Simulation Software, and Advanced Robotic Workcell Development and Implementation. IEEE International Systems Conference (SysCon) 2017. [link] [pdf].
Bochao Li, Anthony Nordman, James Walker, and Scott A. Kuhl. The effects of artificially reduced field of view and peripheral frame stimulation on distance judgments in HMDs. In Proceedings of the ACM Symposium on Applied Perception, SAP '16, pages 53–56, New York, NY, USA, 2016. ACM. [link]

Scott A Kuhl, Aleksandr Sergeyev, James Walker, Shashank Barkur Lakshmikanth, Mark Highum, Nasser Alaraje, Ruimin Zhang, and Mark Bradley Kinney. Enabling affordable industrial robotics education through simulation. In 2016 ASEE Annual Conference & Exposition, New Orleans, Louisiana, June 2016. ASEE Conferences. [link]

Aleksandr Sergeyev, A. Nasser Alaraje, Scott A. Kuhl. Filling the Gap between Industry and Academia: Teaching Critical Skills in Automation and Control using Developed, Open-Source Programmable Logic Controller Software. Proc. ATMAE Annual Conference 2016. Orlando, Florida. November 2016. Best ATMAE Conference Proceedings Paper.

Bochao Li, Ruimin Zhang, Anthony Nordman, Scott Kuhl. The effects of minification and display field of view on distance judgments in real and HMD-based environments. Proc. ACM Symposium on Applied Perception 2015, pages 55--58. [link]

Aleksandr Sergeyev, Nasser Alaraje, Scott Kuhl, Michael Meyer, Mark Kinney, Mark Highum. A University, Community College, and Industry Partnership: Revamping Robotics Education to Meet 21st Century Workforce Needs and Technology Programs. Technology Interface International Journal (TIIJ). 16(1), pp. 59-69. Fall/Winter 2015. [link]

Ruimin Zhang, James Walker, Scott Kuhl. The effects of minification and display field of view on distance judgments in real and HMD-based environments. Proc. ACM Symposium on Applied Perception 2015. Poster. [link]

Aleksandr Sergeyev, Nasser Alaraje, Scott Kuhl, Michael Meyer, Mark Kinney, Mark Highum. Innovative Curriculum Model Development in Robotics Education to Meet 21st Century Workforce Needs. ASEE Zone III Meeting 2015.

Aleksandr Sergeyev, Nasser Alaraje, Scott Kuhl, Kurt Kalenauskas, Bochao Li. Open Source, Multi-Level, Interactive Programmable Logic Controller Software Development for High School Students, Two and Four Year Colleges, and Displaced Workers. The Technology Interface International Journal, 15(1), Fall/Winter 2014. Also presented at the 2014 IAJC/ISAM Joint International Conference.

Ruimin Zhang, Bochao Li, and Scott Kuhl. Human Sensitivity to Dynamic Translational Gains in Head-Mounted Displays. ACM Symposium on Spatial User Interaction 2014. [link]

Bochao Li, Ruimin Zhang, and Scott Kuhl. Minification Affects Action-Based Distance Judgments in Oculus Rift HMDs. ACM Symposium on Applied Perception 2014. [link]

Scott A. Kuhl, Robert Pastel, Ryan George, Chad M. Meyers, Matthew L. Freitag, Jacob M. Lund, Michael Paul Stefaniak. Teaching interdisciplinary teamwork through hands-on game development. American Society for Engineering Education (ASEE) Conference 2014. [link]

Jun Ma, James Walker, Chaoli Wang, Scott Kuhl, and C-K Shene. FlowTour: An Automatic Guide for Exploring Internal Flow Features. IEEE Pacific Visualization Symposium (PacificVis). pp. 35–42. March 2014. [link]

Myounghoon Jeon, Michael Smith, James Walker, and Scott Kuhl. Constructing the Immersive Interactive Sonification Platform (iISoP). Distributed, Ambient and Pervasive Interactions (DAPI), Lecture Notes in Computer Science (LNCS), proceedings of HCI International Conference 2014. 8530, pp. 337-348. [link]

James Walker, Jun Ma, Scott A. Kuhl and Chaoli Wang. An Evaluation of Flow Field Visualization with Internal Views. ACM Symposium on Applied Perception. August 2013. Poster. [link]

Ruimin Zhang and Scott A. Kuhl, Human Sensitivity to Dynamic Rotation Gains in Head-Mounted Displays. ACM Symposium on Applied Perception. August 2013. [link]

Ruimin Zhang and Scott A. Kuhl, Flexible and general redirected walking for head-mounted displays. IEEE Virtual Reality Conference. March 2013. Poster. [link]

James Walker, Ruimin Zhang, Scott A. Kuhl, Minification and gap affordances in head-mounted displays. ACM Symposium on Applied Perception. 2012. Ranked 3rd best poster of the conference. [link]

Ruimin Zhang, Anthony Nordman, James Walker, Scott A. Kuhl, Minification affects verbal and action-based distance judgments differently in head-mounted displays. ACM Transactions on Applied Perception. Presented at the 2012 ACM Symposium on Applied Perception. [pdf] © ACM, (2012). This is the author's version of the work. It is posted here by permission of ACM for your personal use. Not for redistribution. The paper has been accepted by ACM Transactions on Applied Perception and the definitive version will appear there.

Frank Steinicke, Gerd Bruder, Scott Kuhl, Realistic Perspective Projections for Virtual Objects and Environments. ACM Transactions on Graphics. 30(5), 112:1--112:10, October 2011. [link] Presented at SIGGRAPH 2012.

Frank Steinicke, Gerd Bruder, Markus Lappe, Scott Kuhl, Pete Willemsen, Klaus H. Hinrichs, Natural perspective projections for Head-Mounted Displays. IEEE Transactions on Visualization and Computer Graphics (TVCG). 17(7), pp. 888-899. July 2011. [link]

Frank Steinicke, Gerd Bruder, Klaus H. Hinrichs, Scott Kuhl, Realistic Perspective Projections for Man-Made Virtual Objects. Presented as a poster at ACM SIGGRAPH (International Conference on Computer Graphics and Interactive Techniques). Los Angeles, CA. July 2010. [link]

Frank Steinicke, Gerd Bruder, Klaus H. Hinrichs, Scott Kuhl, Markus Lappe, and Pete Willemsen, Judgment of natural perspective projections in head-mounted display environments. In Proceedings of the ACM Symposium on Virtual Reality Software and Technology (VRST), pp. 35–42. Kyoto, Japan. September 2009. Award: Best full paper. [link]

Scott A. Kuhl, William B. Thompson, Sarah H. Creem-Regehr, HMD calibration and its effects on distance judgments. ACM Transactions on Applied Perception, 6(3). pp. 19:1--19:20. August 2009. [link]

Scott A. Kuhl, Sarah H. Creem-Regehr, and William B. Thompson, Recalibration of Rotational Locomotion in Immersive Virtual Environments. ACM Transactions on Applied Perception, 5(3). pp. 17:1--17:11. August 2008. [link]

Scott A. Kuhl, William B. Thompson, and Sarah H. Creem-Regehr, HMD calibration and its effects on distance judgments. Proc. Fifth ACM SIGGRAPH Symposium on Applied Perception in Graphics and Visualization (APGV), pp. 15--22. August 2008. [link]

Scott A. Kuhl, William B. Thompson, and Sarah H. Creem-Regehr, Angle of declination manipulations and their effects on distance judgments in virtual environments. Journal of Vision, 8(6), p. 751. May 2008. [abstract] [link]

Scott A. Kuhl, William B. Thompson, and Sarah H. Creem-Regehr, Minification influences spatial judgments in virtual environments. Proc. Third ACM SIGGRAPH Symposium on Applied Perception in Graphics and Visualization (APGV), pp. 15--19. July 2006. [link]

Scott A. Kuhl, Sarah H. Creem-Regehr, and William B. Thompson, Individual differences in accuracy of direct blind walking to targets on the floor. Journal of Vision, 6(6), p. 726. May 2006. [abstract] [poster pdf]

Scott A. Kuhl, Recalibration of Rotational Locomotion in Immersive Virtual Environments. Proc. First ACM SIGGRAPH Symposium on Applied Perception in Graphics and Visualization (APGV), pp. 23--26. August 2004. [link]

Scott A. Kuhl and Karen T. Sutherland, Self Localization in Virtual Environments using Visual Angles. Proc. ACM SIGGRAPH International Conference on Virtual Reality Continuum and its Applications in Industry (VRCAI), pp. 472--475. June 2004. [link]